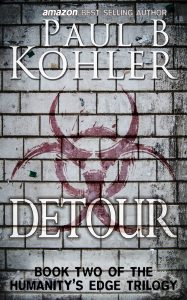 Title:
Detour, Book Two of the Humanity's Edge Trilogy
Series:
Humanity's Edge Trilogy #

2
Published by:
Global Endeavor Publishing
Release Date:
August 22, 2017
Contributors:
Paul B Kohler
Genre:
Fantasy
,
Sci-Fi
Pages:
262
ISBN13:
978-1940740188
ASIN:
978-1940740188
Sheriff Clay Dobbs encounters a completely new world in the aftermath of the nanite epidemic. He must battle both, the Turned and rogue humans, as he strives to be reunited with his missing family. After a favorable encounter in a neighboring town, Clay obtains a small edge in the fight against the Crazed, but the cost is steep — perhaps even his own life.

Like a dog without a bone, Clay will travel to the ends of the earth for kith and kin.
Also in this series: